WELCOME TO HIGH PERFORMANCE ALLOYS
High Performance Alloys is your small quantity specialist
We offer distribution and production of bar, sheet, plate, forgings, and fasteners. Small is HUGE to us; every customer counts and each order counts. Whether it's one price or dozens, we give every order attention to detail.
Browse through the materials, products, and services that we offer. Stocking: Hastelloy®, Inconel®, Monel®, Nitronic®, Cobalt based alloys such as Stellite®, and L605, and commercially Pure Nickel grades 200/201. Call us toll free in the USA for your stock and production material requirements at 800-HPALLOY.
All of our shipments are packed to arrive safely and securely, with a goal of zero damage in transit.
We offer a variety of products and services for global distribution.
Again, our alloys include brands such as
Nitronic

®,
Inconel

®,
Hastelloy

®,
Stellite

®, and
Monel

®.
Please check out our
alloys
page to see more.
Looking to buy?
Visit our HPA eStore or request a quote.
Have questions or need a quote?
Try out our Web Chat feature!
Concerned about food safety?
Read the FDA statement concerning the use of stainless steels as food contact surfaces of equipment.
High Performance Alloys, Inc.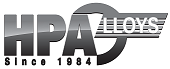 INDUSTRIES SERVED

From samples to mill quantities, and everything in between. As a producer as well as a distributor of special metals, we at High Performance Alloys can help solve your corrosion, temperature and wear problems. How can we help you today?
Have questions or need a quote? Try out our Web Chat feature!
Check us out on NatGeo! Show title: Drill vs. Super Metal
View Nickel Prices
Read our Metals Blog